SL License Update / Renew
NOTE: This step will only work if an SL / Provisional License has already been activated!
1. Download & Install the Library Expert from
https://www.PCBLibraries.com/Downloads
2. Install the Provisional License on the server:
http://www.pcblibraries.com/downloads/HASP_ProvisionalSL_Installer.zip
3. Run the "PCBL Remote Key Update" program, default folder:
C:\Program Files (x86)\PCB Libraries\Library Expert 2019\HASP)
4. Select "Install of New Protection Key", and click "Collect Information" button: and click the "C2V" button: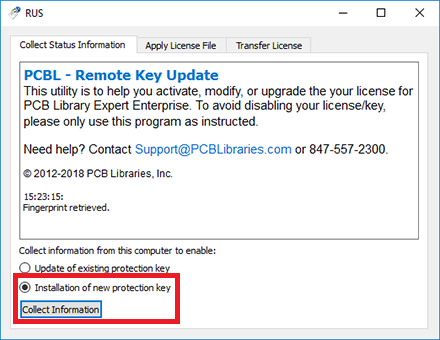 5. Save to "[YourCompanyName].c2v" (C2V = Customer to Vendor), and send via email to PCBL (reply to order confirmation email). We will send you a V2C (Vendor to Customer) update file.
6. Once you get the V2C file from us, save it on your computer, then click "Apply License Update" tab.
7. Select the V2C file sent to you and click "
Apply Update
" button.