Footprint Expert Evaluation (Cloud License Key Setup)
If you haven't done so already, contact us and request your account be changed to "Evaluation" status (you must be registered).
1. Download Footprint Expert Evaluation:
www.PCBLibraries.com/downloads
2. Unzip and install the Footprint Expert.
3. Obtain an Expert Subscription License Key, then specify the Key information in the Footprint Expert.
a. Login at www.PCBLibraries.com


b. Look for your Footprint Expert Key:


c. IF you do not have a Footprint Expert Key associated with your account, you will see something like this. Purchase a license or contact us to link your account with a purchased license.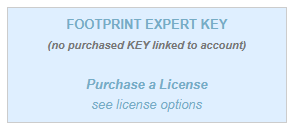 d. Start the Footprint Expert Subscription Edition, and go to "Help" > "Activate License", then enter your Email and Expert Key as provided to you on PCBLibraries.com, and click "Save".