Pro Key Setup
Before using the free Footprint Expert Pro, you need to get and specify the Expert Key.
1. Login at www.PCBLibraries.com


2. If you do not have a key, click this button:


3. When you have an Expert Key, you will see something like this: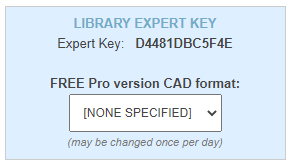 4. Select desired CAD format, then click "Save Information".


Note: you can change to any CAD format once per day.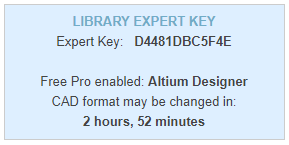 5. Refresh the Downloads Page to show enabled FREE Footprint Expert Pro download button.


6. Download and install the Footprint Expert Pro.

7. Start the Footprint Expert Pro, and go to "Help" > "Cloud Key Activation", then enter your Email and Expert Key as provided to you on PCBLibraries.com, and click "Save".