POD Key Setup
Before using the free Footprint Expert POD Builder, you need to get and specify the Key information.
1. Login at www.PCBLibraries.com


2. If you did not previously obtain a POD Key and an Expert Key, you will need to get them:
POD Key: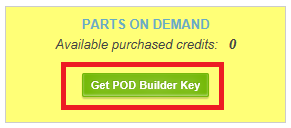 Expert Key:



Install & Use Footprint Expert POD Builder

If you only seldom use the Footprint Expert (hobbies, small projects, or school), you have the option of getting FREE Footprint Expert software so you can take advantage of its powerful preference features, and purchase each individual part at a time for $1/$2 (if they already exist on POD), or starting from $6 (for new part requests)*. All parts build with the POD Builder must be purchased from pod, but no other software purchase (other than a CAD program!) is necessary!
To better understand the differences between our Footprint Expert editions, see the comparison table: www.PCBLibraries.com/Products/Compare
1. If you have not created a POD Builder Key:
- Go to www.PCBLibraries.com/account/user/edit.asp
- You should next get a key similar to this:


If you do not see a POD Builder Key, select the green "Get POD Builder Key" button:



2. Download the Footprint Expert POD Builder from www.PCBLibraries.com/POD

3. Install, then start the POD Builder




4. Go to "Help" and select "POD Builder Activation", then copy/paste the value provided to you on your account page (PCBLibraries.com)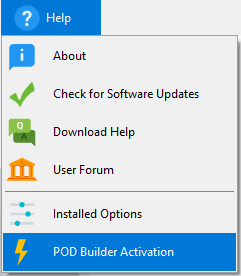 - Enter POD Key in POD Key field
- Enter Expert Key in ID Number field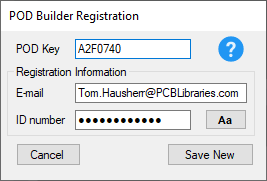 5. In order to use parts from POD with the POD Builder, you must download them with your account.
SAMPLE PARTS
While the Footprint Expert POD Builder comes with a SAMPLE.FPX that you can only browse. To test/build the sample parts, you will need to first download them from POD. Below are the steps:
1. BROWSE Only
- In the POD Builder, select the "Library Editor", then "Open FPX" icons:




- Open the SAMPLE.FPX file, located in the "Libraries" folder. If you need the full path, by default it is:
C:\Program Files (x86)\PCB Libraries\Footprint Expert POD\Libraries

2. DOWNLOAD & BUILD Parts
- Copy/paste a Part Number from the SAMPLE.FPX file and paste in search on POD: www.PCBLibraries.com/POD
- Download the free part using the blue button:


- Open the downloaded part in the Footprint Expert POD Builder and click "Build Part" icon:


* Prices specified are subject to change without notice.