Des Plaines, IL – There have recently been major enhancements to the Library Expert's output to Altium Designer. This latest update of the Library Expert (v2015) offers users a very streamlined method of creating high quality IPC-7351 compliant Footprints, 3D STEP models, and Footprint Attributes for Description and Height – simultaneously – in Altium Designer.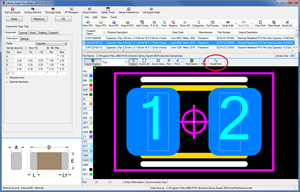 The new "Script" interface allows the Altium Designer user to import Footprints and 3D STEP into an existing library or a new library with one part at a time or 10,000 parts in minutes while automatically applying user-defined User Preferences for pad shapes for each component family, working units, drafting outlines, footprint Pin 1 zero orientation, construction rules, solder joint goals and layer assignments. Library Expert also has a Footprint Designer feature to allow the user to create complex unique footprints using mfr. recommended pattern data. Although PADS ASCII is still an option, it is no longer required.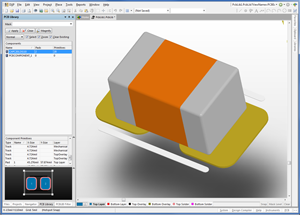 "It's very exciting for us to offer Altium users a streamlined function to transfer data from Library Expert to Altium Designer," said Tom Hausherr, CEO and founder of PCB Libraries, "Our goal is to deliver an automated global solution for PCB library creation and to eliminate duplication of effort, reduce cost and increase productivity levels for both the EE engineer and PCB designer. We eagerly work with CAD vendors who want to ensure their customers have access to the highest quality libraries possible."
The Library Expert is distributed by IPC along with the IPC-7351 Land Pattern standard, and comes with library documentation consisting of 5,000 different package case codes that can be used for well over 300,000 parts. The Library Expert creates footprints compliant with the IPC-7351 "B" and soon to be released "C" revisions. PCB Libraries is actively involved in the IPC-7351 committees to ensure up-to-date compliance.
The PCB Library Expert currently outputs to formats readable by Allegro, OrCAD PCB, OrCAD Layout, CADint, DesignSpark, Expedition, PADS Layout, CADSTAR, CR-5000, Pantheon, Pulsonix, P-CAD, Ultiboard, Target 3001!, EAGLE, DipTrace, Board Station, SoloPCB, and Proteus. It also outputs 3D STEP models readable by an increasing number of CAD tools. The Library Expert Lite is free and outputs in all the CAD formats mentioned above. To download it at no cost, register at www.PCBLibraries.com/register. More details about the Library Expert are available here: http://www.pcblibraries.com/Products/FPX/Altium.asp
About PCB Libraries™
PCB Libraries is a CAD-neutral company that seeks to benefit the industry as a whole. It is a member of the IPC-2581 Consortium to promote an open, neutral, global standard for design data transfer. PCB Libraries is led by veteran technologists in pursuit of automating PCB library development and management.