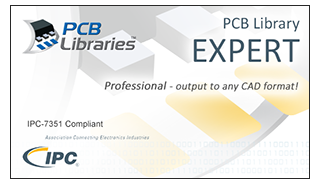 Anthem, AZ - PCB Libraries, the industry's original IPC-7351 footprint calculator/generator, is making even more of its enterprise-level library automation features 100% free and available in its absolutely zero-cost "Library Expert Pro" version.
"More is not less, rather more is completely free. These newly released features were originally available to our enterprise-level customers, and now available at absolutely no cost, no obligation, no strings attached, to automate creation of tens of millions of parts," stated Tom Hausherr, CEO of PCB Libraries. "Notwithstanding its additional advanced features, the Library Expert Enterprise remains the lowest-priced library solution available, and even more of these powerful features are now available in our free version. CAD Libraries were a passion of ours for decades and we're determined to keep it the most affordable professional option available in the industry."
The Library Expert uses cutting-edge CAD LEAP™ Technology not available in any other CAD library solution and is leveraged for competitive advantage by some of the household name companies in aerospace, defense, consumer products, medical, energy, transportation and research/educational sectors, to name a few.
Over the coming months, PCB Libraries plans on increasingly enhancing the free Pro version with additional features as its enterprise-level customer base continues expanding, and it rolls out support for schematics.
For more details on the Library Expert, including the free versions, visit
http://www.PCBLibraries.com/LibraryExpert
About PCB Libraries™
PCB Libraries solutions streamline significant parts of the PCB design process with its CAD LEAP™ (Libraries Enhanced with Automated Preferences) technology, which supports 23 CAD formats with Footprints, 3D STEP models, and (soon) Schematic Symbols. The Library Expert can automatically create tens of millions of intelligent parts which can be batch-updated with dozens of user-defined settings (rotation, pad shapes, tolerance, line widths, etc). PCB Libraries is led by veteran technologists and provides enterprise-level library solutions to many household-name companies throughout the world.