The organization started in 1957 by 6 PCB manufacturers as the Institute for Printed Circuits. In 1977 IPC changed its name to the Association Connecting Electronics Industries after multiple assembly manufacturers started getting involved. In 1999, the organization formally revised its name to IPC "Association Connecting Electronics Industries".
IPC is the only trade association that brings together all of the players in the electronics industry: PCB designers, board manufacturers, assembly companies, suppliers, and original equipment manufacturers. When all of these industry leaders work together, we can develop standards that make everyone more productive by reducing errors and increasing quality. This ultimately leads to faster time to market for all companies. However, not all companies follow IPC standards. They have their own internal technical development talent for the sole purpose of making their electronic product development automation successful.
IPC has its headquarters in Bannockburn, Ill., and has other offices around the United States and the world, including in India, China, Sweden and Russia.
IPC boasts of more than 5,400 companies around the world that depend on IPC programs and services to further their competitive excellence and financial success. There are over 3,600 IPC certified trainers worldwide to train and test on the two major standards, IPC-A-610 for PCB fabrication and IPC-J-STD-001 for PCB assembly.
There are more than 110 IPC licensed training centers around the world. The organization also offers online and multimedia educational and training resources. It hosts educational events, as well as technical and management conferences including IPC APEX EXPO, which is the largest electronics manufacturing industry exhibition in North America, and APEX South China.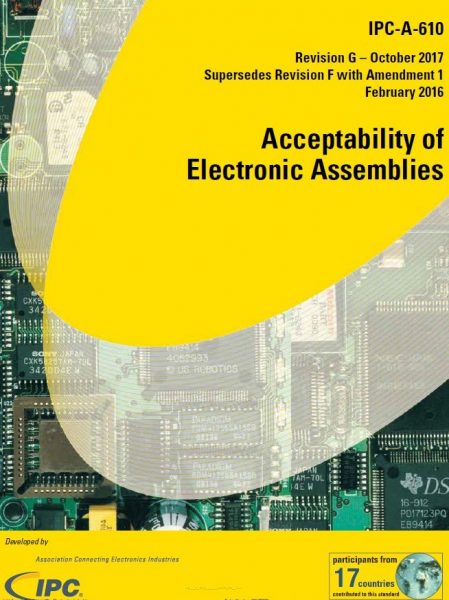 IPC-A-610 is used by every Fabrication shop in the electronics industry to manufacture PCB's for their customers end-use, which are broken up into 3 Classes, 1, 2 or 3.
CLASS 1 – General Electronic Products
Includes products suitable for applications where the major requirement is function of the completed assembly. Least expensive manufacturing cost. Toys
CLASS 2 – Dedicated Service Electronic Products
Includes products where continued performance and extended life is required, and for which uninterrupted service is desired but not critical. Typically, the end-use environment would not cause failures. Nominal expensive manufacturing cost. Computers & Phones
CLASS 3 – High Performance Electronic Products
Includes products where continued high performance or performance-on-demand is critical, equipment downtime cannot be tolerated, end-use environment may be uncommonly harsh, and the equipment must function when required, such as life support or other critical systems. Most expensive manufacturing cost. Military & Medical
IPC-J-STD-001 defines the requirements for electronic assemblies. Land pattern footprint pad sizes and locations play a significant role in meeting these requirements.
The IPC-7351 guideline falls under IPC-J-STD-001 to define the solder joint goals for Toe, Heel and Side values and the land pattern and pad stack naming conventions.
The land pattern footprint pad size is determined by the terminal lead size, the terminal lead tolerances, the manufacturing tolerances for fabrication and assembly and the Toe, Heel and Side solder joint goals as defined in the IPC-7351 guideline.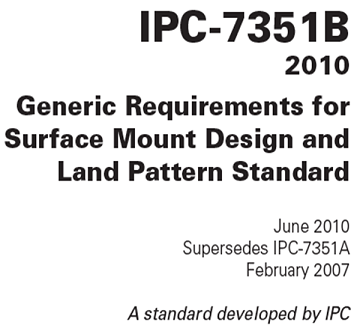 This combination of features and tolerances is commonly referred to as "The IPC-7351 Mathematical Model for Land Pattern Calculation".