There is a simple option for you to choose from to get 25 CAD tools and 3D STEP software for free.
It's called Footprint Expert POD. You need to purchase a POD subscription for $120 a year to access 3 million parts.
You become POD dependent and any part that you cannot find on POD you can order it for $7. We create it and put it on POD for everyone else for free download.
There is also a version of Footprint Expert Pro Calculator.
The new V2021 Footprint Expert Pro is free, but we need the yearly maintenance for programming payroll expenses to keep all the updates coming.
n the V2021 Footprint Expert Pro, there is an option for "Librarian / Calculator". It has all the features except a CAD tool interface.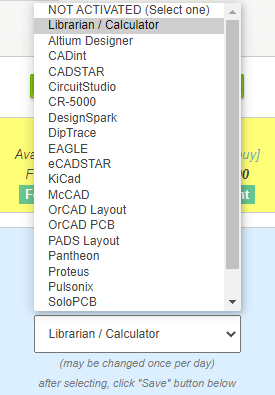 There is a back door to Altium for footprints.
If you use PADS Standard or if your CAD tool (Altium) can import PADS p/d ASCII files (which most CAD tools can), select these Free CAD tool interfaces that have a PADS Standard export:
DipTrace outputs PADS V9.3 p/d and ASCII
Proteus outputs PADS V9.5 p/d and ASCII
Pulsonix (PADS) outputs PADS V9.3 p/d and ASCII
There are a couple options for Cadence, Mentor and Altium users.