http://www.pcblibraries.com/downloads" rel="nofollow -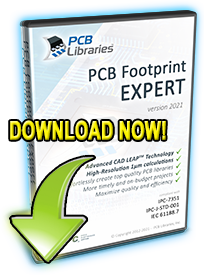 Updates & Bugs Fixed:
Options:

Added new feature to TO-220 Component for mounting hole to be plated or non-plated.

Calculators:

DFN component family - Fixed an issue with the Local Options not being able to change the pad shape to Rounded Rectangle.
TO-220 Flange Mount family –

Fixed an issue in Options that prevented users from changing Pin 1 from Square to Round shape.
Updated the mounting hole inner layer plane connection from a thermal relief to a direct connection.

2,4-Pin Side Concave family –

Fixed an issue with the V2021 FPX File Translator and 3D STEP model.
The LED component family Pin names were permanently set to numeric only and updated for Alphanumeric or Numeric.
Fixed an issue with the zero component orientation of the 2-Pin version to be Pin 1 Left.

SMD Crystal – Fixed an issue where the program was throwing a Handled Exception error message.

CAD Tool Interfaces:

Intercept Pantheon – made improvements to the interface code.
Zuken eCADSTAR – updated the 3D STEP import feature.
Added Tech Tips – when the layer name is too long to fit in the cell, mouse over will display the entire name.
Fixed an issue with Save My Settings for multiple CAD tools.
Added the 3D STEP folder option back to allow to save 3D STEP files in a separate folder.

FP Designer:

Added a new feature for creating Mounting Holes with a direct connection to the GND plane. No Thermal Relief.

Batch Build:

Fixed an issue when changing the Density Level in the Batch Build Options always defaulted to Nominal.



-------------
Stay connected - follow us! https://twitter.com/PCBLibraries" rel="nofollow - Twitter - http://www.linkedin.com/company/pcb-libraries-inc-/" rel="nofollow - LinkedIn