http://www.pcblibraries.com/downloads" rel="nofollow -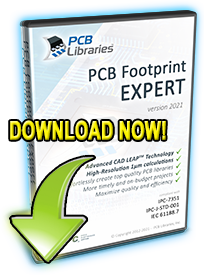 Updates & Bugs Fixed:
CAD Tool Translator UI:

Updated all 25 CAD tool translator user interfaces and 3D STEP.

Improved the interface to Intercept Pantheon
Upgraded the FP Designer feature to streamline the creation of custom footprints.

Added solder and paste mask in the Pad Stack Designer to match the Option rules.

Calculators:

2-Pin DFN – Fixed a placement courtyard issue.
SOFL – Fixed a solder mask issue for fine pitch packages.
Corner Concave Oscillator – when the D1 and E1 dimensions had no tolerance, the 3D model terminal leads were incorrect.


-------------
Stay connected - follow us! https://twitter.com/PCBLibraries" rel="nofollow - Twitter - http://www.linkedin.com/company/pcb-libraries-inc-/" rel="nofollow - LinkedIn