http://www.pcblibraries.com/downloads" rel="nofollow -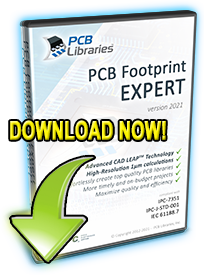 Updates & Bugs Fixed:
Tools:

Using the flip 3D STEP model feature disabled all the other feature in the Tools menu.

Calculators:

Corner Concave Oscillator – The silkscreen Outline was not mapping to the Maximum package dimension.
When selecting the Pad Stack icon and then selecting the Close button, threw an unhandled exception error.
Flange Mount, Vertical component family – Changed Center of Extents to Center of Body.

Layer Display:

When turning off layer and then select All, the layers did not reappear.

Library Utilities:

The "Update BOM from Library" feature was disabled.

FPX File Translator:

V2018 format Collapsing Ball BGA sometimes translates to Non-Collapsing Ball.

FP Designer:

Creating new footprints was improved. Rectangle is the new default and next panels auto-open.
When opening an FP Designer part, the user was forced to select the Finish button. Finish was changed to Ready.
Creating round footprints generated a rectangular 3D model.

Batch Build Update:

Creating a Single Row produced a Footprint Name in the CAD tool translator New_Parts and not the actual Footprint Name.


-------------
Stay connected - follow us! https://twitter.com/PCBLibraries" rel="nofollow - Twitter - http://www.linkedin.com/company/pcb-libraries-inc-/" rel="nofollow - LinkedIn