http://www.pcblibraries.com/downloads" rel="nofollow -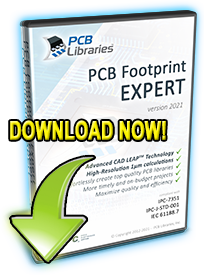 Updates & Bugs Fixed:
Library Editor:

Adding new FPX files to an existing library added the part to the top of the list (rather than the bottom).
Updating a FP Designer part row in an existing library created a duplicate row and did not update the existing row.

Calculators:

The Density Level Suffix was not generated in the footprint name.

FP Designer:

The silkscreen outline was not producing the correct line width Density Level set in Console Options.
Pin reassignment did not work correctly.
After adding new pins manually to an existing FP Designer part, the Delete button was disabled.
Added a new button to reassign pad stack pin numbers.
When adding pad stacks manually, added the ESC button to stop adding pins.


-------------
Stay connected - follow us! https://twitter.com/PCBLibraries" rel="nofollow - Twitter - http://www.linkedin.com/company/pcb-libraries-inc-/" rel="nofollow - LinkedIn