http://www.pcblibraries.com/downloads" rel="nofollow -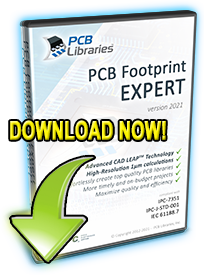 Updates & Bugs Fixed:
Added the ability to edit the pad stack names in all Calculator created footprints.
Added a new feature for converting Excel spreadsheets into FPX files.
CAD Tools:

Allegro/OrCAD PCB – fixed an issue with the "Pad on Assembly" outline was going to the Silkscreen Layer.

Calculator Component Families:

Grid Array's (BGA, LGA, CGA, PGA) – fixed an issue with rectangular shape packages.
TO Flange Mount Horizontal – the "d" dimension did not allow a value of 0.00.
Header, Right Angle – fixed an issue with the Pin Pattern option.
BGA – fixed an issue with Non-collapsing ball saved to FPX and reopened as Collapsing.
Several 2-Pin Component Families – when the component tolerance is 0.00 and the Map Outline to Body > Nominal the outline would flatline.
All – Pad on Assembly was disabled.
LCC – under certain conditions with dimensions and tolerances, pin 1 would inadvertently relocate from the Left Center to the Lower Left.
4-Pin DFN – when using the mfr. recommended pattern, pins 3 & 4 did not follow the mfr. dimensional values.
Header, Right Angle Post and Shrouded – the footprint name had 0 for package height and the Physical Description had 0.00 for Height.

FP Designer:

Pad Stack Manager – updated the feature for renaming pad stacks to include spaces in the name.
Footprint Name – selecting Case Code or Part Number did not register as a change.

Options:

There were updates and the only way to fix them is to recreate your Option file.


-------------
Stay connected - follow us! https://twitter.com/PCBLibraries" rel="nofollow - Twitter - http://www.linkedin.com/company/pcb-libraries-inc-/" rel="nofollow - LinkedIn