http://www.pcblibraries.com/downloads" rel="nofollow -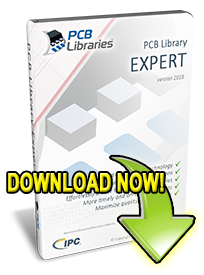 NEW / ENHANCED:
FP Designer:

Update the Print feature to add the package dimensions and pad stack data

CR-8000:

Added the ability for the new tArc code to work with Rounded Rectangles

Pulsonix:

Implemented the keepoutType keyword, which appears to be specific to Pulsonix PLX. A type of Comp is added for every Component Keepout, which will come from the Courtyard of the Part

FIXED:
P-CAD .LIA (covers DesignSpark, all P-CAD versions, and Pulsonix):

Fixed an issue where the plated value was being set to false for through-hole pad stacks.
Adjusted the code so that the Placement Courtyard gets translated as a PolyKeepout in the output. This should allow tools like Pulsonix to pull the keepout.
Fixed an issue with Polys with Arcs. They should now be fully described as points.

Pulsonix:

Adjusted the Courtyard Keepout to set its LayerNumRef to Courtyard_Top so that it hopefully picks up the keepout rules. This is only for Pulsonix and not the other PCAD variants.

CR-5000/CR-8000:

Added the start of functionality to allow for the tangent arc nomenclature for calling out Pad Outlines. Right now, it's restricted to square rounded pads for testing purposes.



-------------
Stay connected - follow us! https://twitter.com/PCBLibraries" rel="nofollow - Twitter - http://www.linkedin.com/company/pcb-libraries-inc-/" rel="nofollow - LinkedIn