http://www.pcblibraries.com/downloads" rel="nofollow -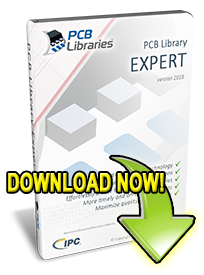 NEW / ENHANCED:
Global License:

Added new Global License option for worldwide use, beyond the traditional Network (site-based) - https://www.pcblibraries.com/contactus" rel="nofollow - contact us to convert your license from Network to Global

KiCad:

A new option for outputting to Version 5 is now available. Currently, this will then allow the program to use native rounded rectangle support (introduced in KiCad 5) to be used where applicable. All previous versions of KiCad now fall under the Legacy option.

Library Expert Pro:

The notification to select a CAD tool will only appear when there is no CAD tool selected

FIXED:
Calculator:

Updated the Axial Lead component family with the latest IPC-2221 / IPC-J-STD-001 lead bend standards

Allegro:

Fixed a bug that was causing Route Keep-outs to not translate properly

PADS variants/CADSTAR/Allegro:

Solder Mask will be excluded in a pad stack when an area of Solder Mask is used to draw a unique overall pad shape

CADSTAR:

Whenever a Paste Mask or Solder Mask Pad is excluded from a pad stack, the code will now put in a 0 size reassignment pad in order to exclude it from the CPA Pad stack. This should prevent issues like paste mask being generated internally to CADSTAR, when there is a drawn paste mask checkerboard.

Xpedition:

Fixed an issue that was allowing the assembly outline to be included in the Pad Stack Comparison, causing unnecessary Pad Stack generation.

General

Fixed an issue where slotted holes with a rotated and offset piece of attached copper were not moving the attached copper to its proper location.


-------------
Stay connected - follow us! https://twitter.com/PCBLibraries" rel="nofollow - Twitter - http://www.linkedin.com/company/pcb-libraries-inc-/" rel="nofollow - LinkedIn