Are you referring to the "Automatic" Pin 1 set in Preferences? Let us know so we can fix it.
Or are you referring to the manual insertion of Pin 1 polarity marker?
We prefer the manual method because that data is saved to the FPX file and you can easily control the polarity size (small or large depending on the package size), the location and the symbol shape.
Also, in the new V2020, manually inserting polarity markings has advanced features that make it easier to add and edit them.
Here are the current polarity marking shapes that are available -

Here is the new V2020 "Insert Shape" dialog menu -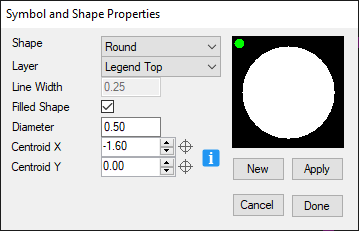 You see the up/down buttons to the left of the coordinates. They are used to move the polarity marker to your desired location.
The layers have been expanded to Top and Bottom Legend, Assembly, Solder & Paste Mask.
You can stay in the menu and add multiple drafting symbols.
The automatic Pin 1 dot feature will by in V2020, but most people will use the manual option.