Frequently I have trouble keeping track of which part I'm editing.
Keeping focused on the current part of interest would be much easier if there was a filter by selection feature, as shown below.
This is really the same functionality that "List All" gives us, but with significantly fewer steps.
To filter the current list using "List All" we need to (Copy Cell > Select Find > Paste > Select List All)
more . . .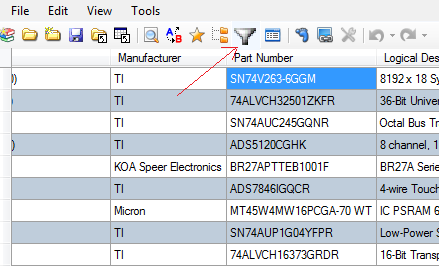 For example:
I would like to be able select a Part Number as shown above or any other cell.
Press the Filter Icon button and viola !
For example, the list is has been filtered to display rows with P/N = SN74V263-6GGM

Same functionality as list all, but at a fraction of the work involved.
Using this Filter Feature, I could quickly edit the record (part) with a higher degree of certainty that I'm editing the correct part.
Randy