I use Target 3001 for the layout development. And I imported into my layout library the Library Expert 3D Step models.
Depending on view direction and zoom factor in Target 3001 the polarity markers are shown sometimes very patchy.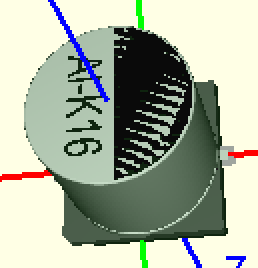 The sample part in the picture is a SMD Aluminium Electrolytic capacitor:
Obviously does Target 3001 not calculate the view accurate enough. Maybe others have also this problem.
This display problem could be solved when the 3D Step export of library expert would use slightly thicker pin 1 markers.