http://www.pcblibraries.com/downloads" rel="nofollow -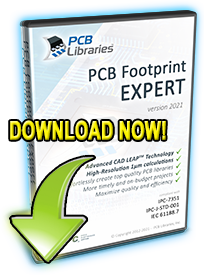 Updates & Bugs Fixed:
Tools > Options:

The Drafting Courtyard Outline – unchecking the Contoured Outline option threw Handled Exception Errors.

FPX File Converter:

Fixed an issue with FPX footprints that had missing Package Type and Data and would not translate.
Fixed an issue when the old FPX file for FP Designer parts has the origin anywhere but the center.
Fixed an issue when FP Designer parts has a Pin 1 chamfer on the assembly drawing layer was not translating properly.

FP Designer:

When creating a FP Designer footprint, the default shape is now set to Rectangle and when the user enters the package dimensions and selects the OK button, the Pad Stack Designer automatically opens, and the Body panel collapses.
Editing the Drafting values did not work.
Fixed an issue where the hole size was rounding up or down twice.
The Courtyard Outline was not following the Courtyard to Pad Excess value set in Options. Slightly off.
Fixed and issue when Batch Building footprint with the origin on Pin 1.
When finalizing a footprint in the Specification panel, the component manufacturer name was not appearing in the cell after searching and selecting it.

Library Editor:

Fixed an issue with processing multiple (batch build) unique parts created in PADS and imported into FPX.

Footprint Expert Pro:

The print feature was turned back on.

Calculators:

Fixed an issue when the QFP with Thermal Pad added local fiducials, the thermal pin name would change.
When the contour courtyard was turned off, the rectangle courtyard violated the excess rules.
Fixed an issue for through-hole parts where the origin was on Pin 1, the CAD output was incorrect.
SIP component family – the zero-component orientation had different words that did not match in the Global & Local Options.
When the package orientation is set to Pin 1 Up and the footprint was moved to FP Designer, the body dimensions swapped.



-------------
Stay connected - follow us! https://twitter.com/PCBLibraries" rel="nofollow - Twitter - http://www.linkedin.com/company/pcb-libraries-inc-/" rel="nofollow - LinkedIn